The Killarney Caravan Park is the perfect place for people looking to get away from it all and take in the sea air. Killarney is a small rural area with a beautiful swimming beach protected by offshore reefs. It is a popular choice for swimmers in the warmer months and is also a great place for a relaxed walk, with views of nearby Port Fairy.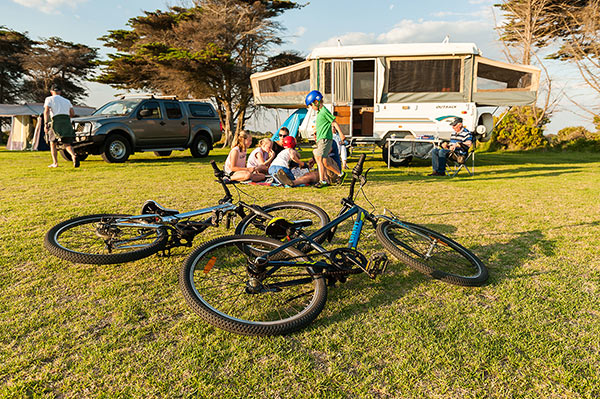 Powered Sites
We have a number of Powered Sites available for those who wish to bring their caravan or motorhome. The sites come with power and water connections, as well as access to communal bathroom and laundry facilities. 
Unpowered Sites
We offer a range of unpowered camping sites, perfect for those who want to get back to nature. The sites are spacious and well-maintained,  close to communal facilities and  offer a stunning backdrop of the Moyne Shire Region. 
Frequently Asked Questions
What is the standard rate for a powered/unpowered site?
Powered sites are $30 per night, and unpowered are $25 per night. Additional adult guests on site are $10 per person, and children over 5 years are $5.
Is WiFi access available at the park?
No, there is no Wi-Fi access at the park, allowing guests to switch off and relax. However, surrounding towns have Wi-Fi access in selected cafes and restaurants.
Is there potable water?
There is non-potable water available. Please bring your own drinking water.
How many powered & unpowered sites are available?
There are 15 powered and 54 unpowered sites available.
Can sites be purchased next to one another?
Yes, if availability allows. Please contact the caretaker on 0428 314 823.
Are visitors allowed to light fires or firepits?
No, fires are not permitted at this park and there are no fire pits on-site.
Are dogs allowed to stay at the park?
Yes, pets are welcome to enjoy a holiday at the park.
Park Specials
Check out what amazing deals you can pick up for your next holiday to Killarney.
Explore what else makes us great…
Nice location, short walk to gorgeous beach. Quiet while being only 10 minutes drive to charming Port Fairy. Amenities were basic and clean.
The park facilities are dated however easy booking process and amazing beach.
It's always a pleasure to have a dip at Killarney Beach, although it has been quite crowded this summer ☀️
Note the lack of drinking water here. We were well informed and prepared for that though. We had a great time, camped just over the dunes from the beach, with amenities very handy.
Beautiful green spot by a protected beach, great for swimming and snorkeling
Wonderful little campground nestled between the beach, the nature reserve, and the cricket pitch