Welcome to
Killarney Beach Caravan Park
A hidden gem that offers a great beachside holiday escape, safe snorkeling and fantastic fishing.
Make A Booking
Experience the peaceful magic of Killarney…
Need a break from your busy day-to-day life? If it's embracing some down time and getting back in touch with nature that you crave, then Killarney Caravan Park is the place for you. Nestled in a natural coastal environment just 2 km off the Princes Highway and just minutes from Port Fairy, Killarney is known for its beautiful swimming beach protected by off shore reefs.
Killarney Beach truly is a hidden gem with Victoria's best whiting fishing, safe snorkeling and paddling in a natural lagoon, pristine surf beaches, amazing birdlife and endless beach walking. There is a large oval and playground for the kids to run and play, and a boat ramp is nearby for your convenience.
Tower Hill State Game Reserve, an inactive volcano that is home to many varieties of native flora and fauna and with a range of walking tracks, is a short drive to the east. The charming Irish township of Koroit, steeped in local history, is just north of Tower Hill and is also within a short drive. A little further East and you'll find the larger regional city of Warrnambool.
Killarney Beach Camping Reserve
Temporary Park Closure 2020
In response to the latest government announcement regarding Victoria's Roadmap for Reopening, our Parks will remain temporarily closed until further notice.
The safety and well-being of our guests, staff and community is our highest priority and we feel this move supports the recent advice provided by the State Government in stopping the spread of the virus.
As advised by the State and Federal Governments, we are encouraged to avoid all non-essential travel. Please stay home if you can. We will continue to monitor the situation carefully and urge you to follow our social media profiles and this website for further updates.
If you have any questions at all about your booking, please contact our friendly customer service staff.
Further information
For further information on the State Government Roadmaps for regional Victoria, please click on this link
Coronavirus COVID-19 Restrictions Roadmaps
Thank you
Thank you all for your continued support during this very challenging time. Let's all work towards a 'COVID-Normal' and remain optimistic about the coming Christmas and Summer Season. We look forward to welcoming you to our beautiful parks again as soon as it is safe.
A natural space to play at Killarney Beach
Want to know where to go to impress the kids and enjoy the natural world?
Killarney Beach Caravan Park's new integrated "natural playspace" is complete – just in time for summer holiday makers!
We're loving the blend of local stone, timber and materials with the existing playground. The aim is to inspire families to experience the beautiful, natural environment at Killarney Beach.
Park Specials
Check out what amazing deals you can pick up for your next holiday to Killarney.
Explore what we have to offer…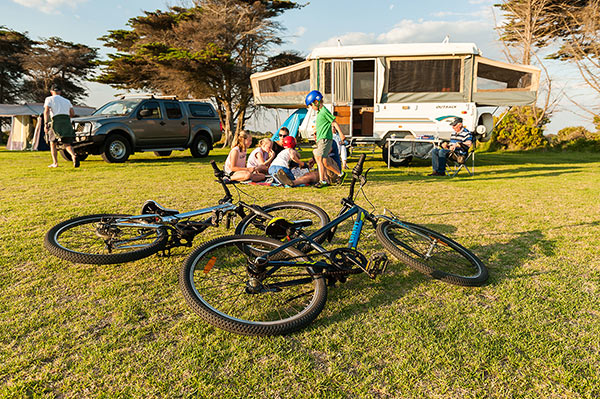 Sit back, relax and enjoy your powered and unpowered site on the perfect beachside holiday or fishing expedition.
This regional park has facilities that will make your holiday enjoyable and relaxing. From camp kitchens to kids' playground it has it all.
With the Killarney beach just a short stroll across the sand dunes. It is a great base to explore the many activities and attractions nearby.
Holiday with your best friend.
What would make a great holiday event better? Bring your "man's best friend" along with you of course.
There's no need to organise a dog sitter for your next trip away as you can bring him or her along with you. Dogs are welcome at Killarney Beach Camping Reserve as it is a dog-friendly campign reserve.
For more information, please contact our office.